YOUR EVERY DETAIL. AUTOMATED.
Complex reporting requirements can consume an enormous amount of time and resources.
Now repeat that several times a year or across multiple markets or categories and the costs spiral, the chances of error increase and your sanity is at threat. With report automation you can forget all the hours of manual effort, and watch your reports being generated, updated and customized at the click of a button. Reclaim time for further analysis and finding the nuggets you've been searching for, and even take on more profitable projects that may have otherwise been out of your reach.
Play Video
E-Tabs Enterprise
Enterprise is acknowledged as the world's most advanced and widely
used report automation software.
Automate even the most detailed of PowerPoint, Word, Excel, Google Slides, Sheets or PDF reports quickly and with 100% accuracy. Enterprise can automate any 'repetitive' type project - whether a one-time multi-market or multi-category study, continuous tracker, KPI scorecard, concept-test or ad-test, with even the most demanding of requirements.
Built specifically with market research needs in mind, Enterprise will automatically pull in the data from your existing data analysis and tabulation systems and put it into your template and choice of charts. Enterprise can perform statistical significance testing, sort & re-rank, calculate nets, averages and trends. Enterprise can also conditionally format the output with indicators, brand logos and images positioned automatically where needed, reformat text, highlight key values and much, much more. Reports that may have taken days or weeks to produce can now be updated effortlessly within minutes. Faster turnaround, increased profitability, reassuring quality, greater insight – it's a no-brainer!
Enterprise In Action
See how Enterprise automates PowerPoint, Excel & Word
Enterprise In Action
See how Enterprise automates Google Slides & Sheets
Reporting Service
Automate Using Enterprise Yourself, or We Can Do It For You
Of course you can take a license and use Enterprise yourself, or alternatively consider using the E-Tabs Bureau Reporting service. This is the 'hands free' approach to report automation where we do the work for you. Save time, money and resource by utilising our award winning local outsourcing team. Since 2004 our team have worked on thousands of MR projects - no project is too big or complex, nor too small! Our experience means we understand your unique needs and will deliver accurately populated reports, on time and within budget. Contact us for a quote on your project now!
Do you feel limited by the export and charting options offered by your current online platforms?
Enterprise Cloud - our cloud based report and chart automation platform can accept data from ANYWHERE - and then populate your own native PowerPoint or Google Slides "template" deck including fully editable charts and tables.
Online dashboards, CRM systems and more - including PowerBI and Tableau - can connect directly with Enterprise Cloud to generate fully customized, editable chart decks on-demand.  These decks are populated with whatever filtered or selected data the user has chosen within their online platform, and Enterprise Cloud then sends the user their final report via email attachment or a link to download.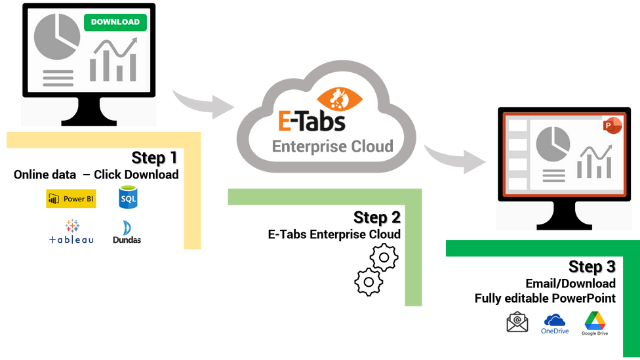 Thank you so much for getting the reports done so quickly, it's made our week so much easier! I was expecting it to take a couple of days!
Stephanie Gow,
Senior Research Executive, Trinity McQueen, UK
Using E-Tabs Enterprise we cut presentation creation time by roughly 70% of what it used to be.
Laura Pienkowski,
Statistical Specialist, The Pert Group, USA
The decks look so great and I know the team really enjoyed working with E-Tabs. As expected, the work was delivered to us flawlessly, and your team was a pleasure to work with.
Stephanie Drucker,
Senior Director - Client Services, Repucom
Those companies using Enterprise will be able to bid on large-scale projects with shorter timelines, greater margins, and lower total costs than competitors relying on manual reporting techniques.
Jeff Kohl,
Research Manager, PeopleMetrics, USA
With each project we automate we are winning. Our people are seeing those successes and definitely feeling their burdens relieved.
Meridith Sigel,
Senior Project Manager, Market Strategies International
E-Tabs Enterprise proved different to the run-of-the-mill solutions on offer.
Vaughn Ravenscroft,
Chief Information & Development Officer, Ipsos Mori, UK
For large tracking studies, E-Tabs is the best automation tool. It helped us achieve accuracy, speed and more beautiful reports. We were able to focus on value add insights instead of spending time on data queries.
Adewale Obaseki,
Country Head, TNS RMS Ghana
There always seems to be a way to make the idea in our heads come alive in Enterprise. It just blows my mind.
Alisa Farley,
Millward Brown, USA
E-Tabs has been instrumental in streamlining our charting process. They enabled us to execute projects more profitably and quicker than before. We are now able to meet deadlines that would have been missed.
Marius Kleynhans,
Statistical & Data Processing Manager, South Africa
E-Tabs are a very professional team. It takes them less than a couple of hours to deliver some complex PowerPoints with more than 200 pages. We highly recommend them.
Melanie Burnier,
Partner COO, M1nd-Set, Switzerland
On just one multi-country study we reduced the time spent charting from 10 days per country to 3 days! Multiply this over a number of countries and you very quickly save months of resources, time and energy.
Senior Research Executive,
Research International, South Africa
We have successfully automated this otherwise daunting project using E-Tabs Enterprise. we achieved savings of 60% on our manual charting budget in the first year and we hope to better that next year with around 70% savings.
Associate Client Service Director,
Millward Brown, France
It's been a pleasure to learn and use E-Tabs Enterprise. The software is powerful and the new features that have been added have made things faster and more accurate.
Jeffrey Aldridge,
CFI Group
While the Google Suite has its benefits, Google Slides is often not as user-friendly as PowerPoint, but E-Tabs was able to automate the population of massive data tables across several slides. Not only was E-Tabs reasonable and responsive, they were incredibly accurate and delivered very quickly.
Kara Wampler,
Research Director, LRW Online
With the help of the E-Tabs Enterprise I was able to deliver many reports in PowerPoint using database with efficiency and agility.
Gisele Maiolo da Silva,
Kantar
We have been using Enterprise for a couple of years now and it has enabled us to do projects that would have otherwise been impossible.
Kees van Doorn,
Data Specialist, MWM2