INTERACTIVE REPORTING FOR MARKET RESEARCH
There is an increasing demand for interactive access to survey results. Many clients and stakeholders are asking for secure and instant visualisation of their data online to complement or even replace static reports. Online dashboards provide a dynamic way to slice and dice data to reveal more nuggets of insight that may otherwise have remained hidden.
There are many online dashboard platforms, typically built for the BI (Business Intelligence) industry, however using these platforms for Market Research or Survey data can be quite challenging, to say the least. The E-Tabs Dashboard team understand the unique requirements of market research reporting and have the tools to support your needs.
Play Video
E-Tabs Dashboard Services
Our experienced Dashboard team can design, build and deploy your perfect market research dashboard
Our award-winning Dashboard Service team provides a truly bespoke service, responsive to the needs of your market research project, ensuring you'll deliver a visually engaging dashboard which tells the story of your data. We will take care of all aspects of your dashboard, starting from design and going all the way through to secure hosting and ongoing maintenance, allowing you to stay focused on the real business of research.
Sample dashboards
Play with some of the example dashboards that our team have created

(Data shown is fictional and only used for illustration purposes)
Editable PowerPoint Exports
Are you looking to generate EDITABLE PowerPoint, Google Slides/Sheets exports from your Online Dashboards?
This export capability can be provided for any Dashboard we create for you, as well as added to any of your existing Dashboards on platforms such as Tableau, PowerBI and many others.
                               Export data from your chosen, filtered dashboard views into your own pre-defined PowerPoint and Google Slides/Sheets templates - those exported reports will include full editable, native charts matching your branded Dashboard design.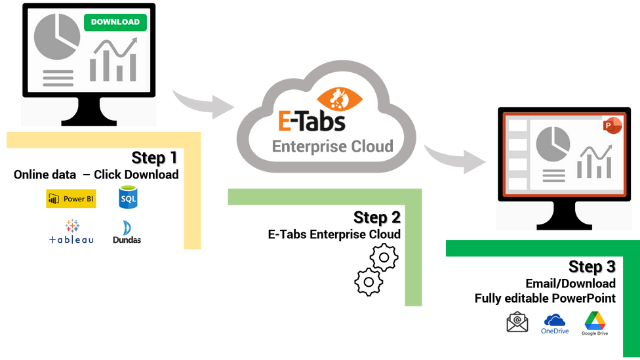 If you have a project you'd like to consider reporting online in a Dashboard, please click on the button below and complete a short questionnaire to tell us more. Once completed, a member of the team will be in touch shortly.
E-Tabs helps us share great market research in ways that encourage clients to use insights! It is the perfect combination of research-specific capabilities, flexible display options, and terrific service and support.
Kris Morrissey,
Sr. Director Insights & Innovation. ASSA ABLOY Americas
Overall the process was simple and ran very smoothly... E-Tabs have met our expectations of the dashboard as it achieved the objectives required.
Chris Dean,
Senior Research Executive, Sponsorship Intelligence
We've got a great dashboard thats driving engagement and E-Tabs have been supportive throughout.
Andrew Dalglish,
Circle Research
E-Tabs have been very responsive and are always available to answer queries on the dashboard
Chris Dean,
Senior Research Executive, Sponsorship Intelligence, London