Enterprise Update
At E-Tabs, we are continually improving our software to ensure faster turnaround and increased profitability for our clients. With that in mind, we are really excited to announce some great new features implemented to our industry-leading report automation software, Enterprise.
1 – Extracting Excel underlying values
Previously in the data file, you could only pull in the cell on face value. e.g. 12% in the example below. With this new filter, you can now pick up the full number that is stored in Excel and set your desired decimal places. This is particularly useful for rounding.
Table Layouts now has an 'until' button in the TOC Entry section. We understand that question text can sometimes flow over various cells and we now have a function where you can select a range of cells in the same column.
For example:
Start at "Table # +1" until "Base: -2" would use the highlighted cells below as a TOC Entry:
2 – ObjectFlow has a new function: Table
A user can now set the overall width and height of a table, much like the position function. The user can also then set column widths or row heights.
To set the column width, the user first selects the range, so this can be an individual column or a group. Once the range is selected, there are 3 options:
Set width to – this allows the user to enter a hardcoded numerical width.
Distribute widths – if you have a group of columns selected it will distribute the column widths evenly within the overall width.
Fixed width – this will keep the selected column(s) the same width after the table is expanded.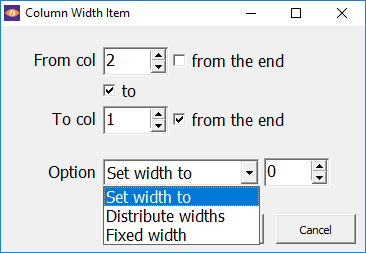 This option works the same for rows.
These options can be used in combination. For example, you may want column 1 fixed and columns 2 until the end, distributed evenly.
3 – New look for Enterprise and further development for Table Layouts
Lastly, Enterprise and Table Layouts are going under the knife. Enterprise is going to have a new look for the festive period. Our icons have been redesigned and we have implemented a new colour scheme based on the E-Tabs colours. Those of you who use Graphique and Vizualz, will be quite familiar with the style. There have been minor updates to the ribbon with a new shortcuts tab.
IF YOU WOULD LIKE TO TALK TO SOMEONE ABOUT ENTERPRISE, PLEASE FILL OUT THE FORM BELOW AND WE'LL BE IN TOUCH.