Enterprise & Google Slides
Over the past few months, the E-Tabs development team has been working on integrating our report automation software, Enterprise, with the Google Suite. This new development will enhance E-Tabs Enterprise's leading platform for the automation of Market Research reporting in Microsoft Office.
This decision to integrate Enterprise with the Google Suite was driven by seeing an uptake in Google Slides as a deliverable in the market research industry. More specifically, we had multiple clients requesting the possibility of automating Google Slides as they were being tasked with big projects that were taking them a huge amount of time to do manually.
After researching the possibility of getting Enterprise to interact with Google Slides, we discovered a method and decided to invest significant time into developing the capability of working with the Google Suite. Our software works in the same way, except that now it can interact with Google Drive, Slides and Sheets as both data sources as well as report outputs.
The E-Tabs Enterprise is now a trusted Google Cloud application having successfully passed Google certification.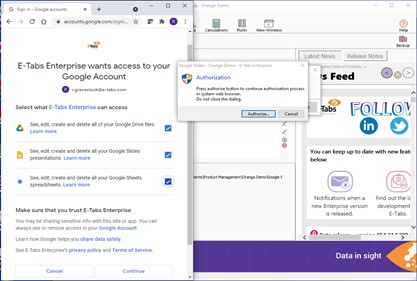 Clients have already started using the new connection and so far, it's been a success. Kara Wampler from LRW Online wrote: "Google Slides is often not as user-friendly as PowerPoint, but E-Tabs was able to automate the population of massive data tables across several slides. There were many complex layers to the data, not just populating numbers, but also populating arrow icons as well as colour coding for multiple layers of stat testing, referencing dozens of tables in the process. Not only was E-Tabs reasonable and responsive, but they were also incredibly accurate and delivered quickly. They also asked all the right questions to ensure we are setup to quickly update these slides in the future if the need arises. They saved our team countless hours and helped us ensure we delivered a high-quality product to our clients".
Here are a few GIFs showing what's possible whilst using the software:
Automation example 1 – Populate chart, colours, insight, ranking and align highlight.
Automation example 2 – Conditional formatting, advanced sorting, load in images from drive (flags), use images from Google Slides (fictional logos).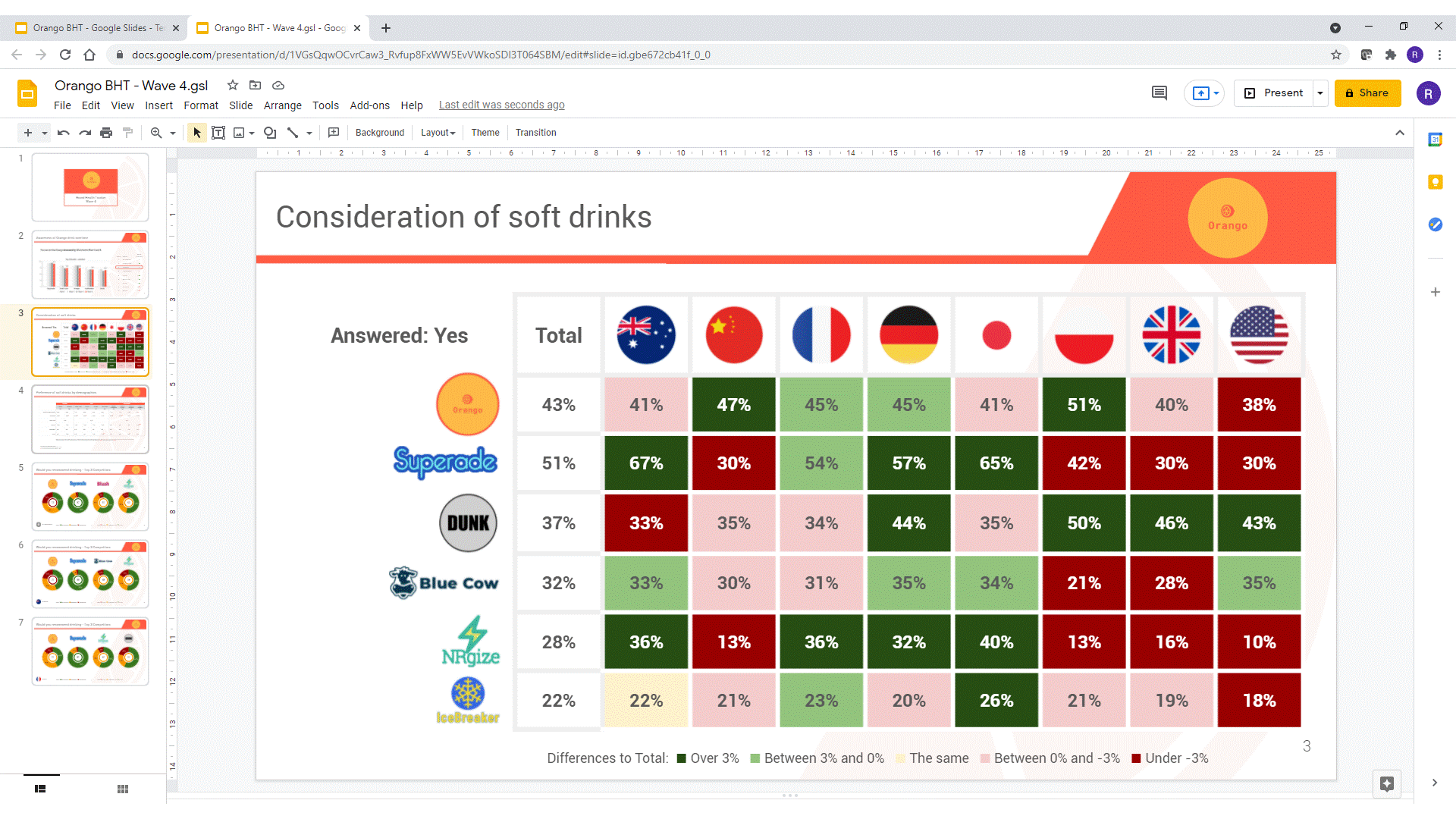 Automation example 3 – Duplicate slide designs, run by different markets in template.
It is an exciting time here for the Enterprise software, and we are looking forward to having more users. If you would like to find out more about the E-Tabs Enterprise and Google Slides connection, you can fill in the form below and a member of the team will be in touch.